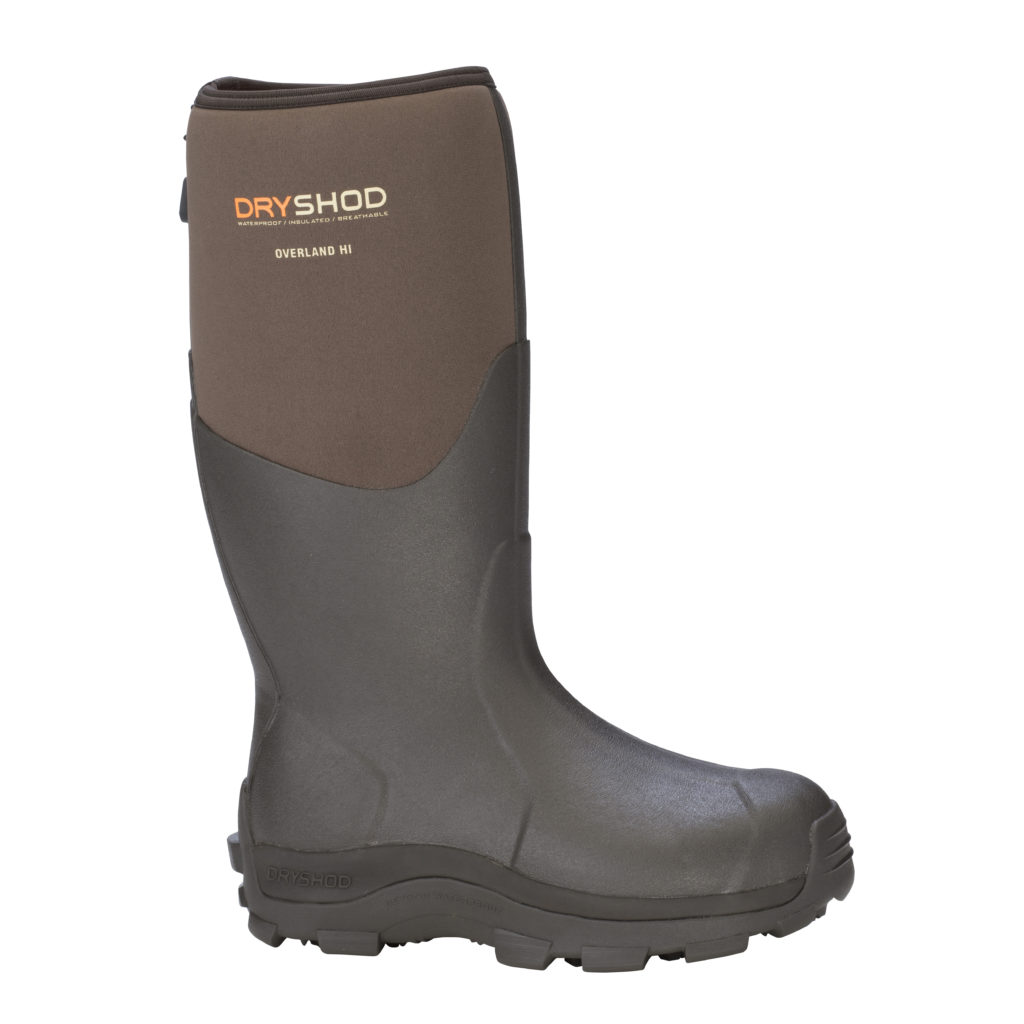 February 2020, Conklin, NY — Dryshod, the new benchmark in performance waterproof footwear for outdoor recreation and work, has just introduced the new Overland series boot for men. Comprising two models to cover all outdoor pursuits, the Overland is the new "backdoor go-to" for those who require a boot that's ready for any job or adventure at any time.
The Overland comes in the Overland Hi (over-the-calf) and Overland Mid (mid-calf). Both models are distinguished by their DS1 high-traction rubber molded outsoles. The aggressive tread blocks and high durability natural rubber construction provide optimal grip on the sloppiest terrain. Additional features defining the Overland series include an EVA midsole that helps block the cold, a removable molded EVA sock liner, and a nylon shank for stability.
As with all Dryshod waterproof boots, the Overland Hi and Overland Mid are 100-percent waterproof, top to bottom. Each boot is built around a 5mm DENSOPRENE® insulated foam bootie that is triple stitched and treated with HYDROKOTE® to repel surface water. This ability to repel water and mud from the textile surface means Dryshod boots will not absorb water or become soggy like conventional neoprene upper boots on the market.
To further keep feet dry and comfortable, Dryshod boots include a 4-way stretch breathable airmesh lining. This unique lining construction utilizes structured top and bottom layers separated by thousands of vertical fibers to provide continual air circulation when walking, allowing feet to breathe and minimizing moisture buildup. Other standard features include a roll-down calf pipe, hand-laid natural rubber overlays (no PVC, PU, or TPR), double-reinforced toe and triple-reinforced heel areas, reinforced tuck boards for added stability, back pull tabs, a generous kick heel for easy boot removal, and a comfortable profile sized to athletic-shoe standards.
Overland Hi (khaki/timber) MSRP: $159.95
Overland Mid (khaki/timber) MSRP: $154.95
For more information on the new Dryshod Overland series boots or to see the company's full line of waterproof footwear, visit DryshodUSA.com.
About Dryshod
The team behind Dryshod was also the first to develop the bootie-style neoprene-and-rubber boot category over 20 years ago. Now they have elevated protective footwear performance through the application of advanced materials, field-proven construction techniques, and purpose-built designs—all to ensure Dryshod consumers receive the highest quality, best performing, and most comfortable waterproof boots for any task or adventure. Dryshod's mission is to provide farmers, hunters, outdoor enthusiasts, and anyone who works or plays in wet, sloppy, and cold conditions with the most durable, reliable and comfortable 100-percent waterproof footwear available. To learn more about the Dryshod Waterproof Footwear difference, visit DryshodUSA.com.
Media Contact: Kim Cahalan, Media Direct [email protected] 309.944.5341